Plano-concave glass lenses are manufactured with one concave surface and one plane surface. These lenses have negative focal lengths.
Plano-concave lenses diverge incident light that is collimated.

They form virtual images which are seen through the lens.

They are often used to increase focal lengths in existing systems.

Plano-concave

elements have a Minimum Order Quantity (MOQ) ranging from 100 to 1,000 units.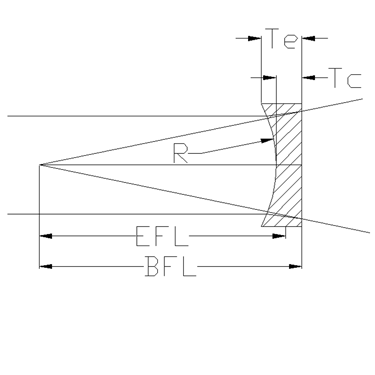 General Specifications:
| Parameter | Value |
| --- | --- |
| Default unit | mm |
| Material | BK7 |
| Diameter tolerance | +0,-0.1mm |
| Focal length tolerance | +/-1% |
| Center thickness tolerance | +/-0.2mm |
| Centration | 3 arc min |
| Surface quality | 20-10 |
| Flange width | 0.2-0.4mm |
---
| | |
| --- | --- |
| PN: | PVP004 |
| Description: | Plano-concave lens precision grade BK7 D= 8 EFL= -15 |
| Material: | BK7 |
| EFL: | -15 |
| Diameter: | 8 |
| Index: | 1.51872 |
| BFL: | -16.32 |
| Tc: | 2 |
| Te: | 3.11 |
| Radius1: | -7.781 |
| Radius2: | infinity |
| Volume Price: | $15.60 (MOQ Range Applies) Request Volume Quote |