Dove prisms are used as image rotators. As the prism is rotated, the image passing through will rotate at twice the angular rate of the prism.
Dove prisms can be used with parallel or collimated light.
Normally used in total-internal-reflection mode with the hypotenuse face un-aluminized.
The useful aperture can be doubled by aluminizing or silvering the hypotenuse face of two identical prisms with their faces cemented together.
Various coating options are available.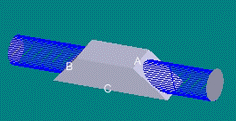 General Specifications:
| Parameters | Value |
| --- | --- |
| Material | Bk7 |
| Clear aperture | 90% |
| Dimension tolerance | +/-0.15mm |
| Surface flatness | l/2 |
| Angle tolerance | +/-3 arc min |
| Surface quality | 60-40 |
---