Bi-convex lenses have positive focal lengths and form both real and virtual images.
Aberrations such as coma, distortion, and chromatic aberration almost exactly cancel out at unit conjugate ratios due to the symmetry. Aberrations will increase as conjugate ratios depart from unity.
Recommended for virtual imaging of real objects, and for positive conjugate ratios from approximately 0.2 to 5. Values are wavelength sensitive.
Antireflection coatings can be ordered as an option.
Bi-convex elements have a Minimum Order Quantity (MOQ) ranging from 100 to 1,000 units.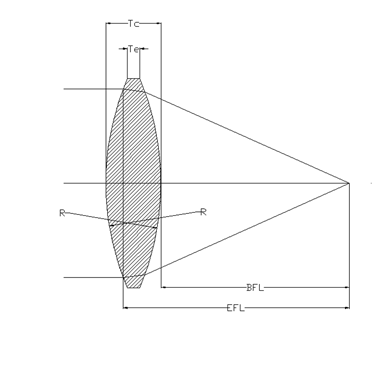 General Specifications:
| Parameter | Value |
| --- | --- |
| Default unit | mm |
| Material | BK7 |
| Diameter tolerance | +0, -0.1mm |
| Clear aperture | 90% |
| Focal length tolerance | +/-1% |
| Center thickness tolerance | +/-0.2mm |
| Centration | 3 arc min |
| Surface quality | 20-10 |
---