Right-angle prism is the most common type of prisms. It is used to re-direct a beam of light at 90 degrees from the the incident direction or used as a 180 beam retro-reflector. They are often coated with various optical coatings to form cubic beam splitters and color separation cubes used in various projection systems.
High transmission can be achieved, using the hypotenuse face in total internal reflection (TIR), with an antireflection coating on the entrance and exit faces.
The prism can be used as an internal or external mirror by applying a metallic coating on the hypotenuse.
We also offer standard grade for standard applications and ultra-precision grade right-angle prisms for critical applications.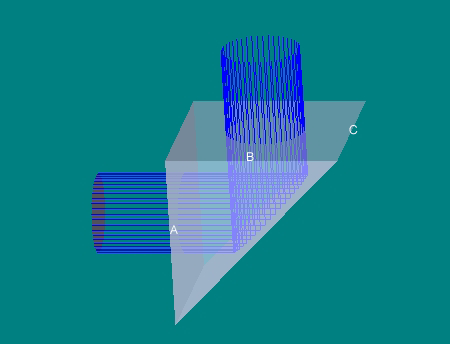 General Specifications:
| Parameter | Value |
| --- | --- |
| Material | BK7 |
| Effective aperture | 90% |
| Dimensional tolerance | +/-0.15mm |
| Surface flatness | l/2 |
| Angle tolerance | +/- 30 arc sec |
| Surface quality | 60-40 |
| Perpendicularity | +/-3 arc min |
| Protective chamfer | 45 deg |
| Coating | Optional |
---
PN
Click for more info
Description
A
B
C
Volume Price
RPP401
Right-angle prism, precision grade, 0.7
0.7
0.7
0.7
Request Volume Quote
RPP403
Right-angle prism, precision grade, 1.0
1
1
1
Request Volume Quote
RPP405
Right-angle prism, precision grade, 1.3
1.3
1.3
1.3
Request Volume Quote
RPP407
Right-angle prism, precision grade, 2.0
2
2
2
Request Volume Quote
RPP001
Right-angle prism, precision grade, 3.2
3.2
3.2
3.2
Request Volume Quote
RPP411
Right-angle prism, precision grade, 4.0
4
4
4
Request Volume Quote
RPP003
Right-angle prism, precision grade, 5.0
5
5
5
Request Volume Quote
RPP005
Right-angle prism, precision grade, 6.4
6.4
6.4
6.4
Request Volume Quote
RPP007
Right-angle prism, precision grade, 8.0
8
8
8
Request Volume Quote
RPP009
Right-angle prism, precision grade, 10.0
10
10
10
Request Volume Quote
RPP011
Right-angle prism, precision grade, 12.7
12.7
12.7
12.7
Request Volume Quote
RPP012
Right-angle prism, precision grade, 12.8
12.8
12.8
12.8
Request Volume Quote
RPP017
Right-angle prism, precision grade, 18.
18
18
18
Request Volume Quote
RPP019
Right-angle prism, precision grade, 20
20
20
20
Request Volume Quote
RPP020
Right-angle prism, precision grade, 25
25
25
25
Request Volume Quote