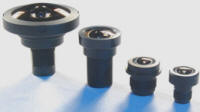 The following is a list of our super wide-angle (FOV: 120° - 170°), fisheye (FOV: 170° - 180°) and super fisheye (FOV >180°) lenses. When choosing a fisheye lens, it is important to match the lens image circle to the size of the CCD/CMOS imagers. Download fisheye lens image circle vs. imager size diagram. In addition, we also provide a distortion processing software for optimizing still images taken with these lenses. For DSLR SuperFisheye lenses, please visit our sister site at: www.superfisheye.com.
To meet your unique application requirement, we can also customize these products or provide you a complete custom solution from design to volume production.
Didn't find the lens you're looking for? Try searching our entire lens database using one of the following options: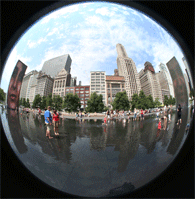 Optical distortion is un-avoidable for ultra wide-angle and fisheye lenses. Dewarper Mini is a plug-in (compatible with Adobe Photoshop, Photoshop Elements and Corel Paintshop Pro) for optimizing distortion taken with Sunex miniature ultra wide-angle and fisheye lenses. It remaps the pixels such that the processed image is optimized for the intended application. This software is based on a new proprietary mathematical model developed by Sunex for real-world lenses. Unlike other distortion correction software, Dewarper Mini does not assume that the lenses have either equidistant or equi-solid angle mapping. All distortion types can be modeled including our Tailored Distortion™ lenses. Software licensing is available for OEM applications.
Key features:
Price: $49 each license (Image editing programs not included).
Download User Guide with output image examples.