Day/Night is a popular term for lenses and other products which are optimized for operation in both daylight and low-light conditions using an infrared illumination source. Such products require specialized design and manufacturing techniques to provide good image quality under this broad range of spectral conditions. Using a Day/Night lens under these circumstances can improve focus, brightness and resolution over conventional lenses. Sunex also offers specialized Day/Night filter products which can further optimize your application.
Day/Night Filters
These are special IR cut-off filters (IRC40 type) designed to allow both visible light and narrow band of NIR band to pass through. Please refer to Day/Night filter page for details.
Day-Night IR Exchanger
The M12-EXM-IRC21 is an IR cut-off filter exchanger with integrated lens mount that allows true day/night (TDN) operation with the Pixim DPS chipsets. For daytime operation an absorptive color filter provides true color rendition. At night, an AR coated window allows maximum light transmission. Download spec sheet.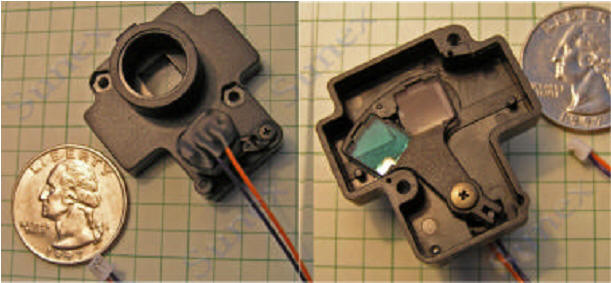 Day/Night Lenses
The following lenses are designed to cover an extended spectral range of visible to near-infrared wavelength (NIR). The designs are achromatized over the entire visible and NIR wavelength so the focal shift between the visible spectrum and NIR is minimized.
PN
Description
Focal length(mm)
f/#
Imager Format
Field of view/
Depth of field
Recommended Holder
Sample Price (1-99)
Volume Price
DSL322A-650-F2.0
Wide-angle, multi-megapixel, hybrid lens for day/night applications, 1/4" sensor, with IRC30 IR cut-off coating, EFL = 2.4mm, F/2.0, M12x0.5, metal barrel
2.4
2
1/4"
Calculate FOV
Calculate DOF
CMT821, CMT804
$69
Order Sample
Request Volume Quote
DSL322C-IRC41-F2.8
Wide-angle, multi-megapixel, hybrid lens for day/night applications, 1/4" sensor, IRC41 filter, EFL 2.4, F/2.8, M12x0.5, plastic barrel
2.4
2.8
1/4"
Calculate FOV
Calculate DOF
$69
Order Sample
Request Volume Quote
DSL322A-NIR-F2.0
Wide-angle, multi-megapixel, hybrid lens for day/night applications, 1/4" sensor, NO IR cut-off, EFL = 2.4mm, F/2.0, M12x0.5, metal barrel
2.4
2
1/4"
Calculate FOV
Calculate DOF
CMT821, CMT804
$69
Order Sample
Request Volume Quote
DSL958G-NIR-F1.7
Wide-angle, low distortion lens for forward machine vision, NO IR cut, EFL=4.6, F/1.7, aluminum barrel, threaded M12X0.5
4.6
1.7
1/3"
Calculate FOV
Calculate DOF
CMT821, CMT107, CMT804
$69
Order Sample
Request Volume Quote
DSL958E-NIR-F1.7
Wide-angle, low distortion lens for forward machine vision, no IR filter, EFL=4.6, F/1.7, aluminum barrel, threaded M10X0.5
4.6
1.7
1/3"
Calculate FOV
Calculate DOF
CMT821, CMT107, CMT804
$69
Order Sample
Request Volume Quote
DSL958G-700-F1.7
Wide-angle, low distortion lens for forward machine vision, IR cut-off at 700nm, EFL=4.6, F/1.7, aluminum barrel, threaded M12X0.5
4.6
1.7
1/3"
Calculate FOV
Calculate DOF
CMT821, CMT107, CMT804
$69
Order Sample
Request Volume Quote
DSL958G-700-F2.8
Wide-angle, low distortion lens for forward machine vision, IR cut-off at 700nm, EFL=4.6, F/2.8, aluminum barrel, threaded M12X0.5
4.6
2.8
1/3"
Calculate FOV
Calculate DOF
CMT821, CMT107, CMT804
$69
Order Sample
Request Volume Quote
DSL958G-NIR-F2.8
Wide-angle, low distortion lens for forward machine vision, NO IR cut-off, EFL=4.6, F/2.8, aluminum barrel, threaded M12X0.5
4.6
2.8
1/3"
Calculate FOV
Calculate DOF
CMT821, CMT107, CMT804
$69
Order Sample
Request Volume Quote
DSL958R-650-F1.7
Wide-angle, low distortion lens for forward machine vision, IR cut-off at 650nm, EFL=4.6, F/1.7, aluminum barrel, threaded M12X0.5, front-side sealed IP6K9K
4.6
1.7
1/3"
Calculate FOV
Calculate DOF
CMT821, CMT107, CMT804
$69
Order Sample
Request Volume Quote
DSL958E-700-F1.7
Wide-angle, low distortion lens for forward machine vision, IR cut-off at 700nm, EFL=4.6, F/1.7, aluminum barrel, threaded M10X0.5
4.6
1.7
1/3"
Calculate FOV
Calculate DOF
CMT821, CMT107, CMT804
$69
Order Sample
Request Volume Quote
DSL958G-700-F4.0
Wide-angle, low distortion lens for forward machine vision, IR cut-off at 700nm, EFL=4.6, F/4.0, aluminum barrel, threaded M12X0.5
4.6
4
1/3"
Calculate FOV
Calculate DOF
CMT821, CMT107, CMT804
$69
Order Sample
Request Volume Quote
DSL988B-NIR-F1.6
NoGhost lens for 1-1.3MP HDR sensors, NO IR cut filter, EFL=5.4, F/1.6, metal barrel threaded M10x0.5
5.4
1.6
1/3"
Calculate FOV
Calculate DOF
CMT934
$69
Order Sample
Request Volume Quote
DSL988B-650-F1.6
NoGhost lens for 1-1.3MP HDR sensors, IR cut-off at 650nm, EFL=5.4, F/1.6, metal barrel threaded M10x0.5
5.4
1.6
1/3"
Calculate FOV
Calculate DOF
CMT934
$69
Order Sample
Request Volume Quote
DSL978B-650-F1.6
NoGhost lens for 1MP HDR sensors, IR cut-off at 650nm, EFL=5.9, F/1.6, metal barrel threaded M12x0.5
5.94
1.6
1/3"
Calculate FOV
Calculate DOF
CMT821, CMT822, CMT107
$69
Order Sample
Request Volume Quote
DSL978B-NIR-F1.6
NoGhost lens for 1MP HDR sensors, NO IR cut-off, EFL=5.9, F/1.6, metal barrel threaded M12x0.5
5.94
1.6
1/3"
Calculate FOV
Calculate DOF
CMT821, CMT822, CMT107
$69
Order Sample
Request Volume Quote
DSL947S-650-F1.6-HP3
Low stray light lens for 1MP HDR sensors, IR cut-off at 650nm, EFL=6.1, F/1.6, metal barrel threaded M12x0.5, front side sealed IP6K9K, HP3 coating L1-S1
6.1
1.6
1/3"
Calculate FOV
Calculate DOF
CMT107, CMT821 CMT804
$69
Order Sample
Request Volume Quote
DSL947S-NIR-F1.6
Low stray light lens for 1MP HDR sensors, NP OR cut-off, EFL=6.1, F/1.6, metal barrel threaded M12x0.5, front side sealed IP6K9K
6.1
1.6
1/3"
Calculate FOV
Calculate DOF
CMT107, CMT821 CMT804
$69
Order Sample
Request Volume Quote
DSL947A-700-F1.6
Low stray light lens for 1MP HDR sensors, IR cut-off at 700nm, EFL=6.1, F/1.6, metal barrel threaded M8x0.5
6.1
1.6
1/3"
Calculate FOV
Calculate DOF
$69
Order Sample
Request Volume Quote
DSL947C-700-F1.6
Low stray light lens for 1MP HDR sensors, IR cut-off at 700nm, EFL=6.1, F/1.6, metal barrel threaded M10x0.5
6.1
1.6
1/3"
Calculate FOV
Calculate DOF
$69
Order Sample
Request Volume Quote
DSL947B-700-F1.6
Low stray light lens for 1MP HDR sensors, IR cut-off at 700nm, EFL=6.1, F/1.6, metal barrel threaded M12x0.5
6.1
1.6
1/3"
Calculate FOV
Calculate DOF
CMT107, CMT821 CMT804
$69
Order Sample
Request Volume Quote
Didnít find the lens youíre looking for? Try searching our entire lens database using one of the following options: